Learn to be comfortable with feeling uncomfortable
Life often makes us uncomfortable, be it because of stress, boredom, overwork, loneliness, sickness or whatever else. On facing such discomfort, we impulsively seek to get away from it by something, anything. Unfortunately, seeking such escapeway from discomfort often puts us in delusion, degradation and eventually greater distress.
Consider recovering alcoholics, for example. When they feel discomfort, their mind immediately proposes relief through alcohol. If they accede, they relapse into the addiction, which leads to far bigger trouble than any discomfort. To break free from their addiction, they need to devise a healthier response to discomfort.
For responding healthily, we need to change the way we look at discomfort: it may not be desirable, but it is not unnatural; it's just an inevitable part of everyone's lives. So, we don't need to escape discomfort at all costs. Encouraging such endurance, the Bhagavad-gita (09.33) states that the world is a place of distress.
Gita wisdom explains that this world is like a hospital. For all those admitted in a hospital, pain is natural. That doesn't mean they have to forever stay in pain, but neither does it mean that they take a morphine overdose daily, several times, to numb that pain. They need to take the proper medicine that will gradually heal them, thereby automatically making them pain-free.
We all are admitted in this world because we are spiritually sick. Despite being eternal spiritual beings, we are craving for temporary material things. To cure ourselves, we need to redirect our desires towards the supreme spiritual reality, Krishna. For such redirection, bhakti-yoga is a time-honored process.
While practicing bhakti, we will still experience discomfort. By understanding Gita wisdom, we can become comfortable about feeling uncomfortable and still persevere in our bhakti practice. Thereby, we will progress towards spiritual healing that gradually raises us above discomfort.
Think it over:
How does escaping from discomfort increase our discomfort?
How is discomfort natural? Explain with a metaphor.
How does becoming comfortable about feeling uncomfortable help us?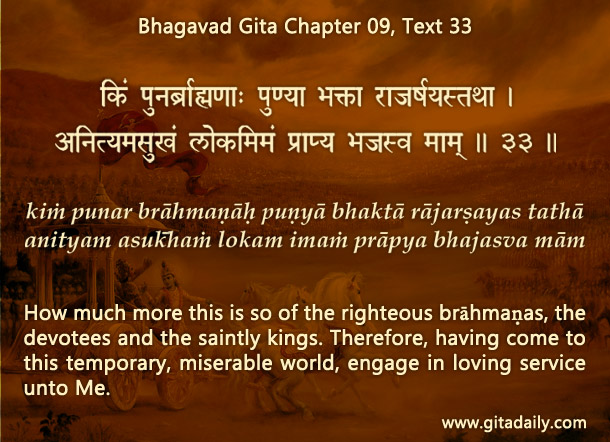 To know more about this verse, please click on the image
Explanation of article:

Podcast: