To put something behind us, we need to put something ahead of us
When some misfortune befalls us, our mind tends to keep replaying that misfortune, making us feel fearful, morose, helpless. Such negativity characterizes the mode of ignorance (Bhagavad-gita 18.35).
How can we put that misfortune behind us? By putting something ahead of us – literally and metaphorically. Literally, we need to find something positive that we strongly long to do. Then, we put reminders of that purpose in front of us as, say, stickie notes, thereby helping that purpose permeate our consciousness. 
Metaphorically, if we compare life to a drive, the misfortune is like a scary car crash. Dwelling on that crash can make us paranoid about driving. But if we had somewhere important to go to, we would gather our courage and start driving. The same principle applies to our life-journey too. When we have something important to do, that purpose impels us to get out of our mind and into our life. 
What if the misfortune destroyed our purpose itself? That's why beyond our various contextual purposes, we need an indestructible purpose: we need Krishna. Gita wisdom explains that Krishna is the supreme indestructible reality. He is already ahead of us and behind us and within us too. Even if our purpose has been foiled, Krishna's purpose still remains operational. Our ultimate purpose is to cooperate with his purpose because we are his eternal parts (15.07).
To put Krishna in front of us means: first, to recognize that, no matter how grim our present situation, we can still serve him; and second, to start taking small steps for serving him. By such spiritual purposefulness, we increasingly experience his solacing and strengthening presence. And the darkness around us starts giving way to light. 
When we thus let Krishna lead us, our life becomes perennially purposeful and sublimely joyful. 
Think it over:
How can we put something ahead of us, literally and metaphorically?

Why do we need Krishna as our life's purpose?

What does putting Krishna in front of us mean? 
***
18.35  And that determination which cannot go beyond dreaming, fearfulness, lamentation, moroseness and illusion – such unintelligent determination, O son of Prutha, is in the mode of darkness.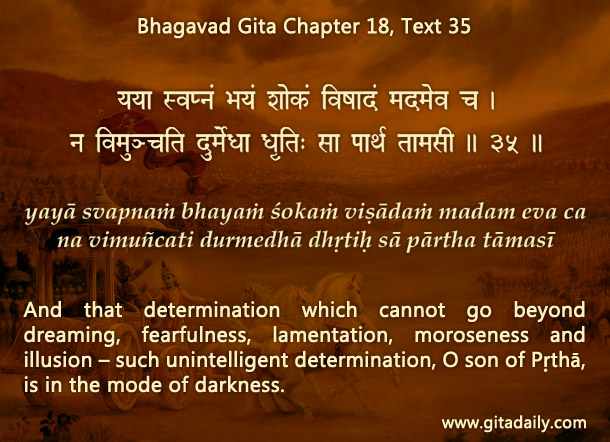 To know more about this verse, please click on the image
Explanation of article:

Podcast: